Hi this is our homepage - best viewed in a 800 x 600 window format - where you will be able to keep up to date with what's hot and what's not. In the regular updates to the page you will be able to keep track of how well our dogs are doing in the show ring, which Munro, that's a Scottish mountain over 3000 feet (914meters) was conquered, in other words we are going to blow our own trumpet!!!!
We have had Beardies since the summer of '73 and ever since – BDL'ers call us Dinosaurs – apart from a two-year gap.
I do the showing – Jim goes up the mountains although I have been known to do the odd one – and here's the proof: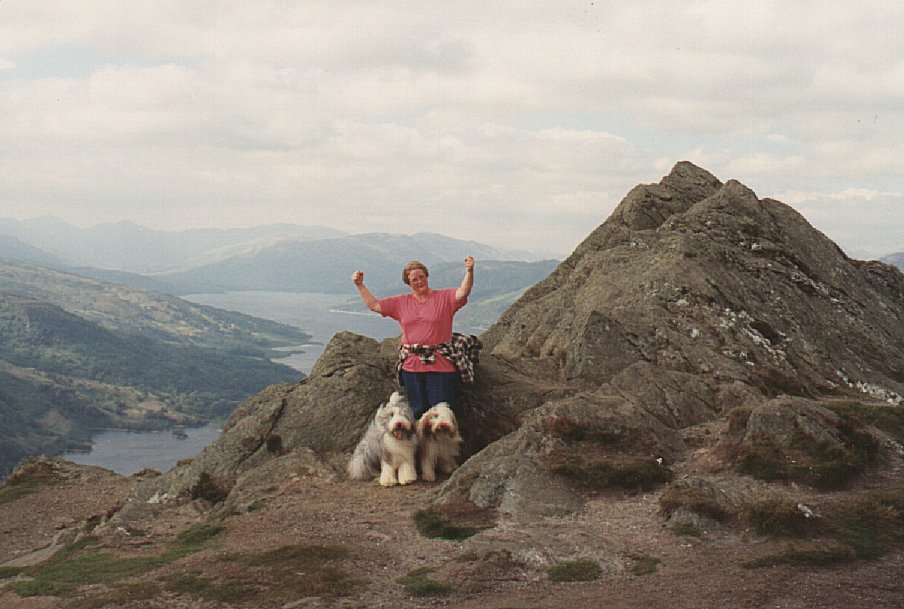 We stay in Saltcoats a seaside town on the west coast of Scotland, the northern third of Britain, which shares government, monarch, language, and currency with the rest of the United Kingdom but has always maintained a fiercely individual national identity and is proud of its own educational, legal, and ecclesiastical systems. In September 1997, we Scots voted for our own parliament with tax-raising powers, a move that will regain the country a real measure of self-determination. Scotland is divided into two distinct areas.
Me Bob and Cass atop Ben A' an
The rural Highlands and Islands, still Gaelic-speaking in parts, supply the stock image, a dramatic combination of mountains, lochs, and craggy sea inlets. The Lowlands have their own rolling hills, wooded pastureland, and beautiful coastlines. Scotland's chancy climate is, thanks to the mild Gulf Stream, often better than its reputation. Most of the 6 million population live in the urban central belt, in and around the two handsome, lively cities of Edinburgh and Glasgow. We are 25 miles southwest of Glasgow
If you want to find out more about the area we live in follow this link for historical information and pictures old & new http://www.threetowners.com/
Please check out the following pages and find out more about our Beardies past and present. Some pages are still under construction
Home Gibeach Fru Don Dealas Cassie
Bob Ben Results Photo Gallery Travel Photos
The contents of these pages are the Copyright of Jim & Helen Dorans
Images are the copyright of the originator and may not be used without the express permission of the copyright owner.