Arranbrae Mo Feasag Nigheon
@ Slanjavah
Arranbrae Mo Feasag Nigheon Born 05/04/1994 Died 15/02/2007
Breeder K. Delaney
Sire CH. Potterdale Chancellor
Dam Arranbrae Royal Choice
Brown & White Bitch Known as Cassie
Cassie arrived after two beardieless years. I'd been invited by Kath Delaney to "go over" her new litter. Well I mean what did I expect, phoned Jim at work and told him that Michael and I had bought a pup and quickly hung up, no argument there then!
Cassie has done well over the years in both obedience and breed classes and again she and Michael are best friends, who else other than mans best friend would lie in bed head banging to Guns 'n Roses and other assorted heavy metal bands. Jim was speaking to someone at work one day mentioned her passion for heavy metal, at six year old she still head bangs to these groups, and lo an' behold had a video played on MTV.
Looks the perfect angel, doesn't she.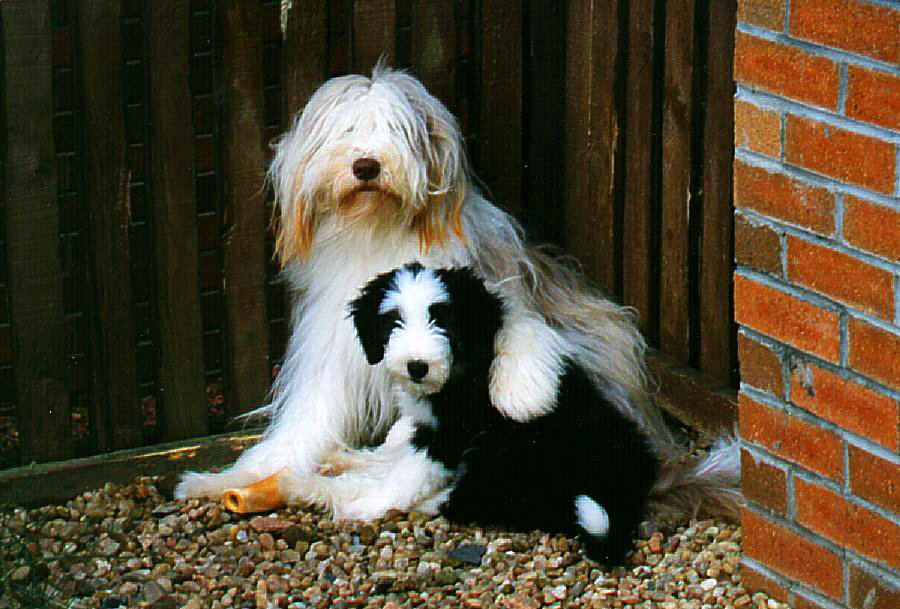 Cassie is the proud mum of 2 litters, and she just loves being a mum – but don't expect her to be civil to them when they grow up – NO WAY!!! In the picture above this is Bob her half brother at 12 weeks.
Her ambition is to become the first Beardie to drive – anything – she adores the car and will stand watching as you turn the key, bark for you to get in gear and then will stand the full length of the journey – no matter how far – but don't even think of slowing down for anything. Jim tries to get her to fall over by swinging the car from side to side but she still stands there wagging her tail.
Please check out the following pages and find out more about our Beardies past and present. Some pages are still under construction.